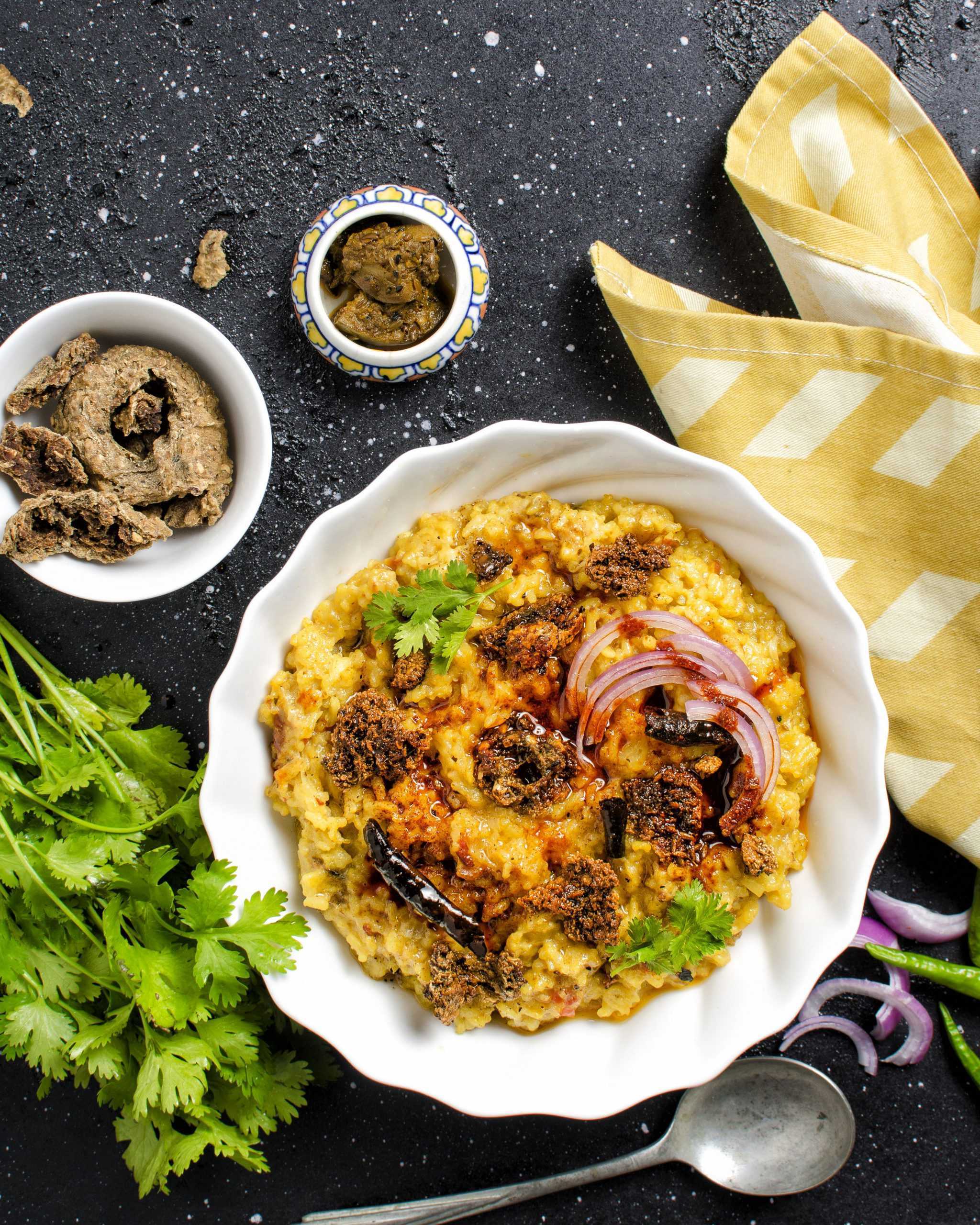 Haneri – Rice Made With Amritsari Wadiyan
Haneri – Rice Made With Amritsari Wadiyan
The word 'Haneri' means a storm in Punjabi – maybe a dust storm, kicking up puffs of dust from the parched ground, threatening the trees and forcing them to bend, creeping into windows and doorways. Or maybe a full-fledged thunderstorm – torrential rain, flashes of silver in the clouds, faraway rumbling that is comforting and frightening at the same time. A storm stirs up things, it stirs up feelings. So does this dish. It's spicier than a dust storm and more fascinating than a thunderstorm. And it reeks of nostalgia – of all the good things that were. Haneri is a dish you cook on the days when you want to laugh out loud. Or the days when you want to cry quietly into your food. Here's the recipe for it, when you want to do either of those things. 🙂
Ingredients:
1 cup rice (any short grain variety)

2 pc Ammiji's Amritsari Wadiyan

1 large onion, chopped

2 medium tomatoes, chopped

1 1/2″ ginger, finely chopped

4-5 tablespoons desi ghee, divided

1 teaspoon turmeric powder

1 teaspoon cumin

1/2 tsp red chilli powder (you can increase this if you want an are-you-insane experience)

Salt to taste

Coriander leaves for garnishing

Water
Method:
Wash the rice 2-3 times under running water and soak for about 20-30 min.

In a pressure cooker, heat 2 tbsps of ghee.

Crush Ammiji's Amritsari Wadiyan into small bite sized pieces. It's okay if some of it turns to powder. Use the powder too!

Add the crushed wadiyan to the heated ghee and stir fry till they turn a shade darker.

Add the chopped onion now and cook till translucent.

Add chopped ginger and the chopped tomatoes and cook till tomatoes soften.

Add the cumin and turmeric powder and let the masala release a little oil.

Now, add about a cup of water and loosely cover the cooker till the Amritsari wadiyan have softened. The idea is to cook the wadiyan till they're almost done before adding the rice so that in the end, the wadiyan are only slightly harder than the texture of the rice.

Once the wadiyan are soft, add in the soaked rice and about 2 cups of water.

Add salt to taste.

Close the pressure cooker now. Cook on high heat till 1 whistle and then lower the flame and cook for another 5-7 minutes. Switch off flame and let pressure release naturally.

Check the consistency once you open the cooker. Add more water if required – the consistency should be that of wet khichdi.

Before serving, temper with 2 tbsp ghee and red chilli's powder. Garnish with coriander leaves.
Of course, you can use any Wadiyan for Haneri, but for a dish that relies mostly on the flavour of the wadiyan, it is best to use the best on offer – homemade, small batch Amritsari Wadiyan made from the finest ingredients. Once you taste the storm of Haneri with Ammiji's Amritsari Wadiyan, you will scrabble to define it as comforting, challenging, deliciously fiery or insanely spicy. And when you make up your mind, let us know too. We're still struggling. 😉